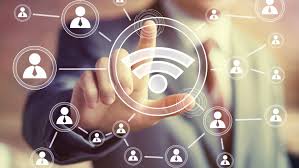 We all get quite excited about public wi-fi being oblivious to the hazards it brings. Connecting with public networks you put your information at risk, because there are many who are sharing the same network and it is very easy to hack somebody's password. With benefits also com the disadvantages. But don't worry you can get best out of those benefits overcoming the risks on public networks if you are mindful of some basic things.
Here are some tips to make your web browsing safer on public networks.
Use HTTPS and SSL
Web pages you visit must be https encrypted.Using HTTPS or enabling SSL encrypts the data passed back and forth between your computer and web server and keep it away from prying eyes. One way you can force your browser to use HTTPS is through an extension, such as HTTPS Everywhere. This is available for Chrome, Firefox, Firefox for Android, and Opera. If there is no encryption, log out – especially if you're doing something sensitive like accessing a banking account, using credit cards.
Use a VPN
Creating a virtual private network (VPN) is one of the best ways to stay safe on the public network. It provides encryption and security over the private network. It is secured channel against anyone who may try to intercept your Web session while connected to a public hotspot:
Turn off sharing and enable firewall
You should turn off sharing network on your computer so that none can access your files. If you are connecting via Windows, make sure to turn off file sharing. Go to vControl Panel > Network and Sharing Center > Change Advanced Sharing Settings. In OS X: Go to System Preferences > Sharing.
To turn on firewall go into your security settings (in Windows under Control Panel > System and Security > Windows Firewall
Use two-factor authentication
Enable two-factor authentication for services that support it. It adds additional protection from hackers.
Keep your apps  updated
Make sure your browser and operating system are up-to-date with latest versions. Keeping up-to-date with the updates minimise security risks.
Log out when finished
After you are finished with the web browsing, log out of the websites you were signed into and make your device forget the network so that it doesn't get connected automatically when you are within its range.