Yes, you heard it right ChatGPT is robust and intelligent enough to ease your SEO tasks. The SEO(Search Engine Optimization) tasks that you had to do manually using some specific tools can now be done by ChatGPT under your given prompt. People have positive reactions to using ChatGPT for SEO, and in fact, they have started availing this opportunity. But what exactly can you do with ChatGPT for your SEO? In this blog, we will look into the details of using ChatGPT for SEO.
What SEO Tasks can You Do with ChatGPT?
SEO basically consists of ON-page, Off-page and Technical SEO tasks. Now, as an SEO specialist, while working, these SEO tasks are put in order and performed. Being unable to do certain SEO tasks on a priority basis can lead you to waste a lot of time and use most of your resources. When you consider using ChatGPT for SEO tasks, you must be familiar with these major SEO tasks and goal-oriented prompts or commands. Let's dive deeper into how ChatGPT can be used for different SEO tasks.
Read Also: Why Use ChatGPT for SEO? Is ChatGPT good for SEO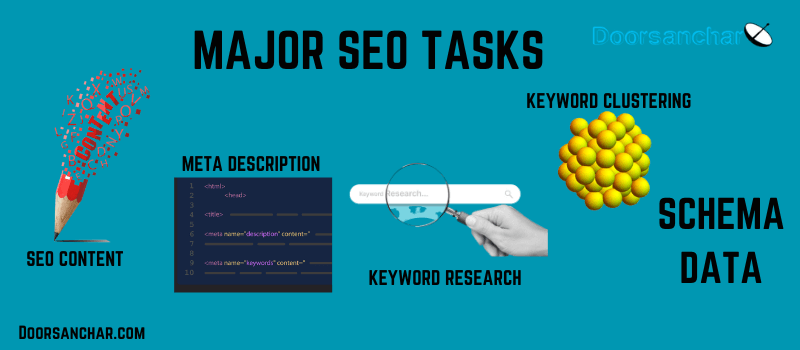 Content is the king in the SEO game, and there is certainly no denying it. It's not just keywords; now, it's about matching the audience's intent. An SEO content writer starts writing with a focus on matching the audience's intent. But now a new player has stepped in; that's ChatGPT. In fact, Content writers are living in constant fear that their job will be replaced by ChatGPT. The fear is legitimate as the content that a content writer creates takes hours or days to complete, while it can be done by ChatGPT within minutes. In fact, using ChatGPT, you can generate creative content and check grammar and spelling. Since NLP processing is focused on ChatGPT content, the content sounds less robotic but more human. This ultimately helps you to have content that is engaging and relevant for your target audience. 
Prompt Example: Write content on " ChatGPT for SEO" with a conversational tone.
A meta title(title tag) is the text displayed on search engine result pages to indicate the topic of a webpage, whereas a meta description is an HTML element that summarizes a webpage's content. For this, you can enter the title of your content or paste an abstract from your content and command ChatGPT to create a meta description. 
Prompt Example: Act as an SEO content writer. Provide 5 to 6-word long meta titles. I will provide articles.
Schema markup( structured data) is the language of search engines. Basically, Schema markup makes it easier for search engines to understand the content a webpage has. Schema markup can be super impactful, especially when it comes to snippets. You can use ChatGPT to generate Schema Data manually.
Prompt Example:  Act as a JSON-LD expert coder. I will provide you product page. Give me product-type schema data in JSON-LD format, which is accepted by Google.
Keyword research is all about discovering words and phrases people use to search for certain information online. It is essential for a successful SEO strategy and to provide valuable insights into the needs and interests of your target audience. ChatGPT can be used for several keyword research functions. It can help you have a niche's competitive landscape. Using ChatGPT, you can find relevant keywords by generating keyword ideas based on NLP and understanding context and associations.
Prompt Example: Act as a keyword research tool. I will give you a seed keyword. You will provide me 10 long tail keywords with commercial intent based on this seed keyword  

Keyword clustering includes clustering keywords into relevant themes. A single cluster can have a core topic and several related subtopics. In general, grouping related keywords can be manual but using a strong language understanding of ChatGPT, you can easily cluster keywords. 
Prompt Example: Act as a keyword clustering tool. I will give you a list of keywords. You should analyze and cluster them in relevant groups.
Read Also: An Ultimate Guide to ChatGPT for beginners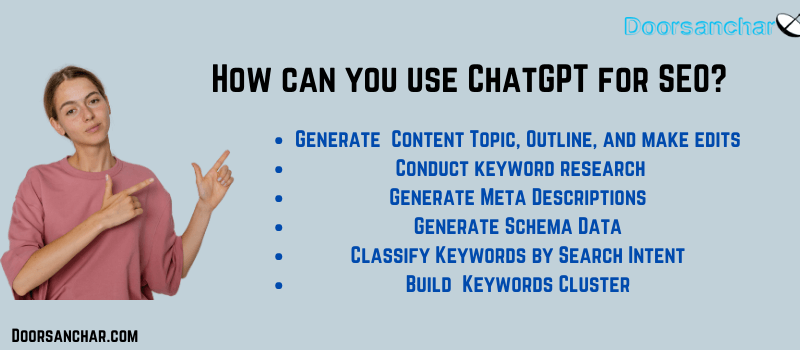 But Don't forget the Limitations of ChatGPT
Even though it is great to use ChatGPT for SEO, you must be aware of its limitations, such as
Mostly ChatGPT can only deal with informational intent.

ChatGPT is not trustworthy as it can not provide correct answers to the questions in a few cases.

ChatGPT fails to grasp emotions and provide text or answers relevant to its topic directly.

As ChatGPT lacks critical knowledge and reasoning, the AI model tool may not be able to produce new and updated information and think wisely.   

Regarding delivering statistics on search volume and the difficulty of ranking for specific keywords, ChatGPT is less effective than traditional tools.
Wrapping Up
Not only is ChatGPT is great for media and marketing, but it is also equally helpful for conducting SEO tasks. Even though ChatGPT can be the greatest assistant for your SEO endeavors, it is not recommended by experts working in SEO. As per Search Engine Land, ChatGPT wasn't designed to be an SEO tool in the first place. In most cases, AI-generated content was not able to address the intent and bring depth to the content. So if you are thinking of ChatGPT in your SEO and content, have a talk with the SEO specialists and relish the best results for your business.