Artificial Intelligence rapidly taking momentum around the world, in recent public response towards ChatGPT indicates how technology going to change the world.
Innovation has always been positively impacting businesses and how they operate. Hence, keeping a tap on the latest marketing trends and remaining competitive is the priority of a business owner. A leading and most-trending innovation, ChatGPT can help your businesses to craft some killer marketing campaigns. In fact, using ChatGPT, you don't have to spend hours or even days crafting marketing messages and social media posts; within a few minutes of using ChatGPT, digital marketers can produce awesome content.
So, let's look into the details of how media and marketing companies can use AI toolsto uplift their businesses.
What is ChatGPT?
ChatGPT is an AI Chatbot created by Open AI company. It is a sophisticated artificial intelligence (AI) technology that has revolutionised the AI industry. All in all, this is a diligent and versatile tool that can assist you with language translation, text summarisation, content generation, and a variety of other tasks. You basically need to give prompts to do your task, this smart technology will do the rest.
Different Ways to use it for your marketing
Let's look into activities that can be done better using this AI innovation.
Create personalised email campaigns
ChatGPT can turbocharge eCommerce as it allows you to automate processes such as customer assistance, inventory management, and order tracking. Your eCommerce can improve collaboration among various teams and departments and reach the ultimate sales goal. Another thing is that by availing its power to create unique and thought-provoking content, you can differentiate yourself from the competitors.
 Generating social media marketing content
This can bring immense benefits to social media managers in their regular work. Content for social media posts created by it can be more engaging, personalised, and sharable. Further, this can help in goal-oriented campaigns, create content calendars, generate captions, respond to comments, promote products, write viral posts, and generate multi-lingual captions and social media ad copy.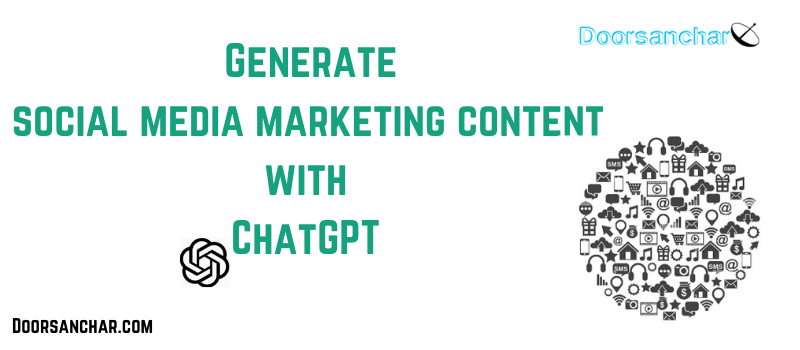 Create product description and marketing copy
ChatGPT can be used to generate informative and captivating product descriptions, which can potentially increase sales. Not only that, but to generate marketing copy for website landing pages, and advertising campaigns, this AI tool can be an effective means to create marketing copy.
Automate customer service responses
Automation what this great invention would bring in your marketing and customer service domain. Do you want to give your customers personalised emails and want your clients to stay close? If so, you need great content in your email marketing campaign. So, instead of having yourself do the work, you can have ChatGPT automatically send customised marketing messages to the customers. 
Power up your SEO with Chat GPT 
Search Engine Optimisation (SEO) is also heavily based on high-quality content. SEO content, mostly blogs, should have words that are to be included in natural language processing. So, you can use ChatGPT to generate content and text that addresses the intent and also has relevant keywords and great meta descriptions. The optimised content for websites created by ChatGPT will certainly help power up your SEO. But SEO experts who are using artificial intelligence tools must make considerations of Quality over Quantity, Context, Ethical Considerations, Algorithm Updates, and Integrating with Other Tools and Techniques.
Make  Lead generation
ChatGPT can also be used to generate leads and collect contact information from potential clients. With this, you can connect with potential clients and learn about their wants and needs. Eventually, you can qualify leads and present them with relevant product or service information.
Improve your E-commerce
Businesses can use ChatGPT to create virtual assistants to assist customers with their online shopping experience. These assistants can recommend products based on their activity on a website and also answer their queries. Communication with customers becomes easy.
Wrapping Up
Using ChatGPT is certainly the art of availing the latest innovation and making your personal brand or business grow. However, one must remember the limitations of ChatGPT as ChatGPT is still evolving. It will be better to have the final check and touch-up from your end to ensure everything is right in your content or project.
For detail information on ChatGPT, you can read our blog Ultimate Guide to ChatGPT For Beginners.