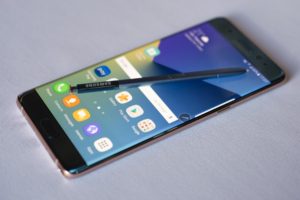 In a bid to prevent more explosions Samsung is preparing to permanently disable Galaxy Note 7 that are out in the market. The company will issue a software update next week  in the US that will prevent Note 7 from charging. As a result, the phone will stop working.
2016 was a very unfortunate and eventful year for Note7. Initially, though the phone was received well by customers, it experienced a ban by airlines, a recall and replacement program and affected many lives. It has been reported that 93% of the phones have already been returned during its recall program. The remaining ones in the US market will be disabled through the software update. The update will be released on Dec 19.
One of the biggest launches of 2016 became the biggest smartphone failure. It recalled 2.5 millions of Note 7 handsets following battery failure. Currently, it is preparing for a major launch of 2017 , Samsung Galaxy S8. Let's hope it will be helpful to bring back the reputation of the company.