ChatGPT-4 is a chatbot prototype that uses OpenAI's latest and most advanced AI system. GPT-4, launched on March 14, is the successor to GPT-3. ChatGPT-3 was text-based, while GPT-4 is "multimodal," i.e. it can respond to prompts that can be in text, image, audio, and video forms. As a multimodal tool, GPT-4 offers a high scope for collaboration and creativity, and hence the users can use GPT-4 to generate, edit, and refine writing projects such as writing screenplays and songs. In addition, GPT-4 has deeper learning, AI safety and security as it is developed with inputs from more than 50 experts. Also, GPT-4 can resolve complex issues thanks to its broader general knowledge and problem-solving skills.
In this blog, we will dig deeper into what new things you can see in ChatGPT-4
FEATURES OF ChatGPT-4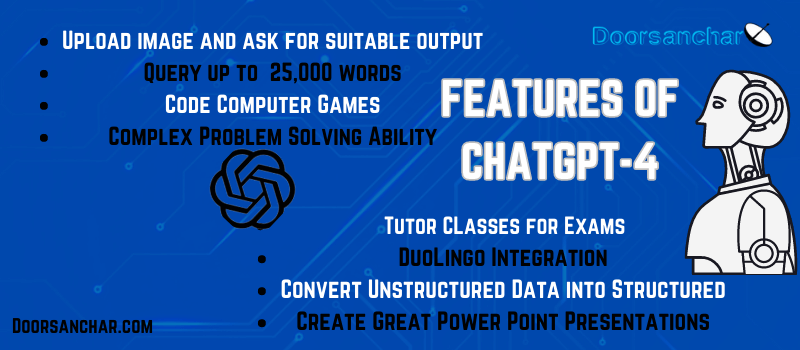 Upload image and ask for suitable output
Image Search Feature is added to ChatGPT 4, where users can upload an image and then request a response. This feature implies that AI can receive, comprehend, and interpret images. GPT-4 can understand images and text of various sizes and formats, such as papers containing text and photographs, schematics (sketched or hand-drawn), or screenshots. GPT-4's output continues to be as capable as it was with text-only inputs.
In ChatGPT-4, you can enter up to 25,000 words in an inquiry, request, or prompt. You can copy and paste the text on ChatGPT-4, and it will respond accordingly. Although the average user would not use nearly 25,000 words at a time, businesses such as films with lengthy scripts can make the most by using this feature.
With ChatGPT-4, you can code computer games and recreate entire computer games. Sources say that users on the internet have even managed to recreate PONG Game with ChatGPT-4 and that too within a minute. ChatGPT 3.5 could also recreate games however it was tedious and required some debugging. But with the new version, a user can create computer games in one shot. All in all, ChatGPT-4 offers a seamless and quick process, and due to its complex problem-solving, it can create games easily and at higher accuracy.
With ChatGPT-4, you no longer need a tutor to prepare for board or any competitive exams, as it is well-equipped and capable of helping you pass those exams with top scores. Surpiringly. GPT 4 has passed different bar exams such as SAT, GRE, and AP (Advanced Placement). So if you are looking for a tutor, you can simply oprnGPT-4, provide a prompt to be the tutor and help you pass the exam with flying colors. 
ChatGPT-4 has integration with Duolingo, so it will help if you are into learning a foreign language. In Duolingo integration, there is a feature called "Roleplay"; with this, you'll be able to practice a foreign language. It is basically learning by chatting, except for the fact that you will be chatting with an AI.
Convert Unstructured Data into Structured
ChatGPT-4 can convert your unstructured data into structured data. Unstructured data is hard to manage and organize, but with GPT 4, you can turn your unstructured data into structured in one click. Example of Prompt for this feature: You are a Vulnerability Exploitability eXchange (VEX) converter for CycloneDX. I will give you unstructured vulnerability reports in text format. I want you to convert each of these into CycloneDX-compliant VEX reports.
Create Great PowerPoint Presentations
GPT 3.5 was not able to produce visual presentations such as PowerPoint presentations, but with chatGPT-4, you will be able to construct a full-fledged PowerPoint presentation. All you have to do is provide a topic, and the AI will make the presentation. Also, ChatGPT-4 can add animations and style each slide individually.
LIMITATIONS OF ChatGPT-4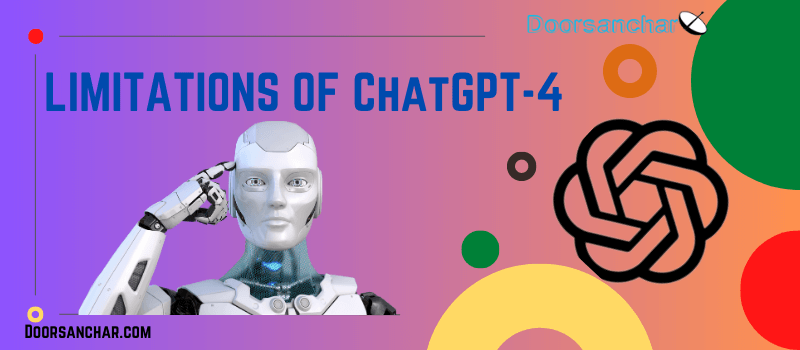 It can't reason current events.

It can't decide on the effect of social biases.

Inaccurate information from time to time.

GPT-4 is not free; For ChatGPT Plus, a $20 monthly subscription should be paid.
Wrapping Up
ChatGPT-3 is useful for media, marketing, and businesses, and so is ChatGPT-4. However, if you want your business to scale up and make maximum use of AI features, then ChatGPT-4 is perfect for you. Moreover, you will need to make a subscription and payments to avail benefits of ChatGPT-4.