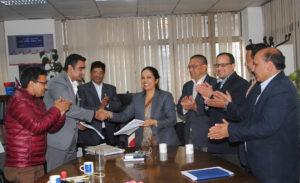 Nepal Telecom has appointed a consultant to bring in a strategic partner in Nepal Telecom. NT has formally appointed Analysys Mason Limited UK as the consultant to help it in the process of selection of the strategic partner.
NT has signed an agreement with Analysys Mason Limited UK to entrust it with the of appointment of the strategic partner and other required task. It is the same company shortlisted back in 2014 to help in the strategic partnership process. In 2014, Nepal Telecom was given a go-ahead from Cabinet for strategic partnership and it called for expression of interest from national and international firms. But Commission for the Investigation of Abuse of Authority (CIAA) intervened and the process was halted halfway. NT had revived the stalled process a few weeks back.
With the suspension of CIAA chief Lokman Singh Karki, NT got clearance to forward its process of strategic partnership. And finally, the pact has been inked with Analysys Mason Limited UK and NT gave progress to the process. Further details on the divestment of shares to the strategic partner will be available after the selected consultant completes due diligence audit.
It has been many years since Nepal Telecom made a decision to get a strategic partner for the smooth functioning of the company.