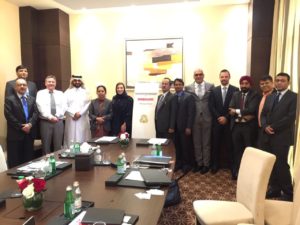 Nepal Telecom and Ooredoo Qatar have signed an agreement to provide roaming facilities at a discounted rate. As per the agreement, NT Postpaid GSM users can make calls at a cheaper rate to Nepal during their stay in Qatar.
According to the press statement, Acting CEO-OGS Mr. Khalid Al Mansouri of Ooredoo Qatar and Pradipraj Upadhaya from NT signed the agreement last week. The new roaming rates will come into effect from this January. Back in 2006, NT and Ooredoo Qatar had inked a deal related to international roaming service. Now this time, the rates agreed by the same agreement have been reviewed.
During the signing ceremony of the agreement, Rajiv Gautam, member of NT board, Managing Director Kaminirajbhandari and Vice Spokesperson Sobhan Adhikari were also present. The new Qatar roaming rates come just a week after Ncell launched new 'weekly roaming data packs and transit pass'. With Ncell Weekly Roaming Data Packs, customers can enjoy data service at as low as Rs 5 per MB in over fifty countries.