It is the age of information and technology. You can find plenty of apps in app store. If you are in dilemma which to go for, here we have listed best of them:
Best iPhone apps
Flixter
This app is designed for you to make your movie-viewing decisions. It lists movies with rating and theater show-time as well. You can watch movies right inside the app if you purchase them.
The Weather Channel
It is designed to alert you with weather updates. It also works with Apple watch.
Any.do
It is designed for task-management. Any.do has a unique feature called the Any.do moment that encourages a habit of reviewing your daily tasks.
EasilyDo
EasilyDo works as a personal assistant to help you connect get things done easily. You connect the app to a variety of online services, like your email, calendar, Facebook account, and so forth, and then EasilyDo takes care of a variety of tasks quickly and efficiently.
Google docs and Google Sheets
Google Drive users can access their files with the Google Drive app, but you'll need the Docs app to edit them or create new Word processing documents. Similar to the Google Docs app is Google Sheets, that lets you edit and create spreadsheets.
Converter Plus
It is all-in-one calculation app, delivers numbers on nearly everything, from currency conversions to loan interest figures. It converts metric to imperial measurements for temperature, cooking volumes, length, and more.
RedLaser Barcode scanner and QR code runner
This app turns your iPhone's camera into a barcode scanner. When shopping, scan any item with a barcode, and RedLaser, provides detailed information about the product, including whether you can buy it at a better price nearby.
Swiftkey
It lets you type with swiping gestures. You drag your finger around to or near the keys you want, and it figures out what you're trying to say. Typing this way is faster and easier than pressing individual keys.
Microsoft Outlook
Microsoft Outlook's light and flexible mobile email app supports almost every email account you might have, an integrated calendar, and provides a Focused inbox that shows you only important messages.
Dubmash
Dubsmash lets you create and share short videos of you lip syncing to an audio clip. It's the best medium to have fun.
Plex
Plex is the easiest way to set up your own home media server. With a home media server, you can access movies, songs, and other media files from anywhere in your house as long as your device is connected to your Wi-Fi network.
NASA app
NASA has released many iPhone apps, but this app is the space agency's flagship app, provides wide range of NASA content. If you are a space enthusiast, it offers plenty of news stories, features, images, video, and information about the space agency's activities.
Mint.com
The Mint.com iPhone app helps you keep detailed accounts of your finances by connecting to all your financial accounts (and then some) and tracking all the money you earn and spend. The app gives you details into how you're spending your money and whether you're sticking to the budget you've created in Mint.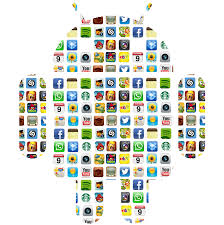 Best android apps
Evernote
It is note taking application that comes with plenty of features including audio/video/images. It also features many other organizational features.
Express VPN
If you want to keep your android device safe on public Wi-Fi, you need an Express VPN boasting an SSL secured network with 256-bit encryption. It has servers in 78 countries.
Nova Launcher
It is beyond what other normal launchers are. It comes with a host of features, including the ability to backup and restore your home screen set ups, customization elements for the home screen and much more.
Pocket
It lets you take a webpage you're viewing to store it for later purpose. When you're browsing the news or you find interesting stuff from your Facebook/Google+/Twitter feed that you want to read later, you can store it in your Pocket. It also works with news apps like Flipboard, social media apps like Facebook, and you can share from Pocket to other apps as well.
Pushbullet
It is an app that connects your computer to your device through the web browser. From there you can do all kinds of stuff , answer text messages directly from your computer, transfer files, check your notifications, send messages on some (supported) services, and more.
Zedge
This is a wallpapers, ringtones, notification tones, and alarm tones app making easy to theme your phone with wallpaper according to various occasions: Christmas or other holidays.
Pocket casts
It is for those enjoy podcasts. This app allows you to download or stream various podcasts for your enjoyment. It features both audio-only and video podcast support.