16th General Elections of the world's largest democracy have ended with people's decision but the results are still in the box. The world is awaiting the opening of the Pandora's Box to see how ballet changes Indian politics.
In next few hours the world will know which party is in the position to form the government. Whether 'Modi' will be next Prime Minister or not its big Q at this time and the answer is inside the ballot box and will disclose people's decision in coming few hours. The result will show what is on Indian people's fate 'Haat', 'Phool' or 'Jhadoo'.
There are three websites which are monitoring and updating election results: 
Google Politics and Elections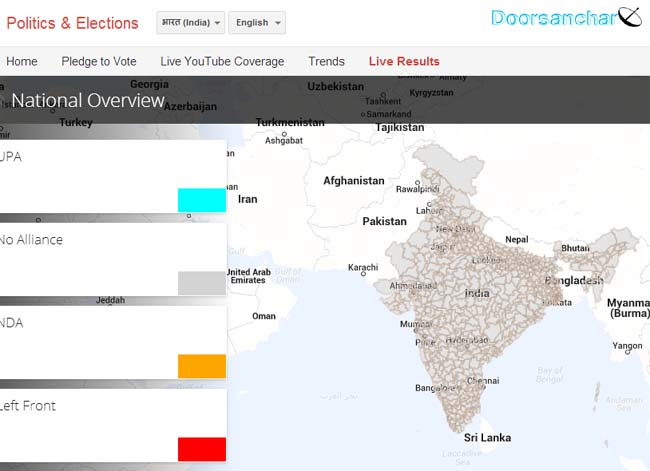 Google has developed Politics and Elections portal to provide Indian election results live. The election result will be available in four categories UPA (United Progressive Alliance that includes Indian National Congress, Nationalist Congress Party, Rashtriya Lok Dal etc), NDA (National Democratic Alliance: Bharatiya Janata Party, Shiv Sena, Shiromani Akali Dal etc) and Left Front (alliance of Indian Communist parties such as Samajwadi Party, Marxist Forward Bloc, Bolshevik Party of India etc). Browsing this you'll be able to check a position of these political parties on a particular area (your locality) entering pin code.
Microsoft CNN-IBN Election Analytics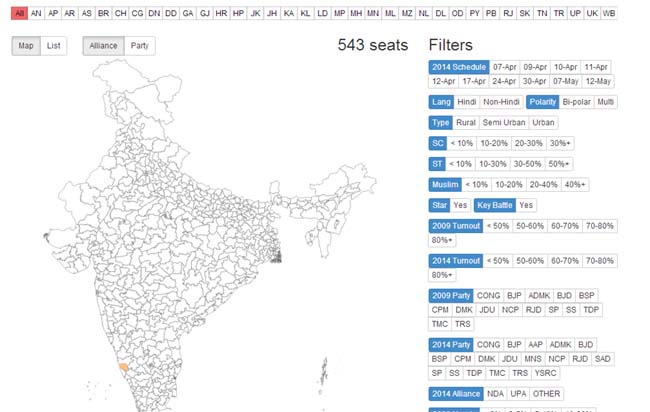 Microsoft developed election analytics portal for Indian election with the partnership of CNN-IBN. It has created Bing-powered election portal for live results. The website delivers election data in the form of interactive charts and diagrams. Microsoft has also presented archived electoral data from 1951.
Election Commission of India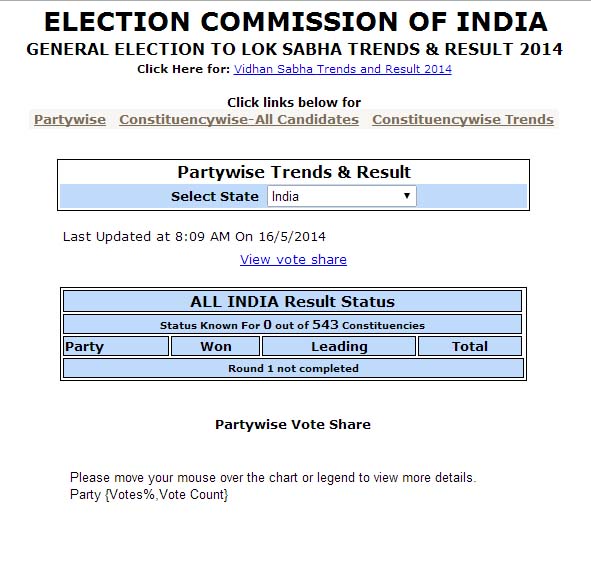 The most authentic and official data source for the election results is Election Commission. EC is updating its website with latest data and figures from 8 am (Indian Time). EC website will show results party wise, constituent wise all candidates and constituent wise trend.