According to the quarterly State of the Internet Connectivity Report published by AKAMAI, South Korea have the highest average connection speed in the world at 29.0 Mbps, an 8.6% gain over previous quarter report of 2015. Average connection speeds among the top 10 countries/regions were all above 15 Mbps, while South Korea was the only country/region with an average connection speed above 25 Mbps.
Akamai is the global leader in Content Delivery Network services, making internet fast, reliable and secure for its customers. Globally, 142 out of 146 qualifying countries/regions saw quarterly increases in average connection speeds, compared with 131 countries/regions in the fourth quarter. Growth rates ranged from a modest 0.1% in Suriname (to 2.5 Mbps) to a substantial 91% in Nepal (to 3.8 Mbps).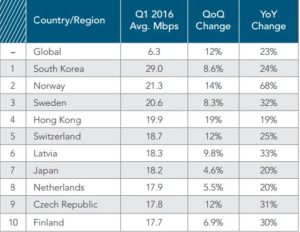 Year over year, all of the top 10 countries/regions saw increases in the first quarter of 2016, compared with 9 of 10 in the previous quarter report. Like the previous quarter, all of the gains were double digit, ranging from 19% in Hong Kong to 68% in Norway. On a global basis, the average connection speed increased 23% year over year in the first quarter of 2016. Increases were seen in 138 qualifying countries (same as the preceding quarter), with growth rates ranging from 0.5% in Suriname to 298% in Kenya (to 7.3 Mbps).
Yearly declines were seen in eight countries/regions, with drops ranging from 1.5% in Gabon (to 1.8 Mbps) to 23% in Syria (to 1.4 Mbps). Two countries, Libya and Yemen, saw average connection speeds below 1.0 Mbps in the first quarter of 2016, with speeds of 0.7 Mbps and 0.9 Mbps respectively.
In Asia Pacific region as well, South Korea was top country for average connection speed, and the gap between it and lowest-ranking India widened slightly from 24 Mbps to 26 Mbps. The first quarter saw gains across all of the surveyed Asia Pacific countries/regions, ranging from 3.3% in China to 31% in Vietnam. Eleven countries enjoyed double-digit quarterly gains, compared with 10 in the fourth quarter of 2015.
In terms of mobile connectivity, the United Kingdom had the fastest average mobile connection speed at 27.9 Mbps, with Belgium in second place at 19.4 Mbps, Within the individual continental regions, following countries had the highest average mobile connection speeds:
Africa: Kenya, 5.9 Mbps
Asia Pacific: South Korea, 13.0 Mbps
Europe: United Kingdom, 27.9 Mbps
North America: Canada and Puerto Rico, 8.8 Mbps
South America: Paraguay, 6.1Mbps