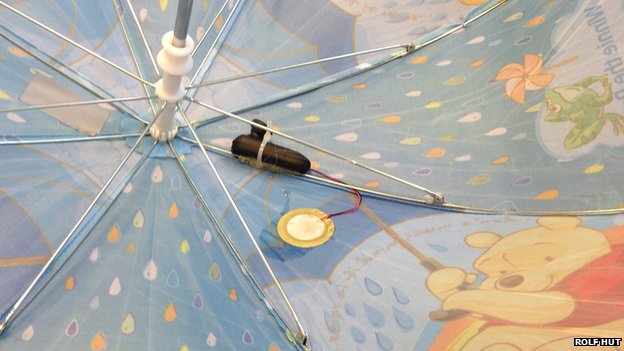 Want to keep yourself dry all the time without browsing web for weather prediction or carrying an umbrella every day? The wait is over! A group of Dutch scientists has developed umbrella as mini weather-monitoring stations placing piezo sensor ( a device that measures a change in pressure, strain etc. by converting them to electric charge) under canvas. The prototype umbrella detects raindrops falling on its canvas measuring vibration caused which then sends the data via a phone to a computer.
While you are using the umbrella at rain, it keeps on sending data to your phone which then uploads it to the cloud. The system uses Bluetooth to send report to a smartphone app. Each data would be sent to meteorologists which helps for accurate and detailed prediction too.
Though the scientists have radar and satellites, the system will not measure rain on the ground as the developers says is expensive to maintain the gauges.
As the "Smart Umbrella" is still a prototype, it's not sure when will it be available for general people.