Nepal Telecom has introduced IPCDMA (High-Speed Data Connectivity) technology called as SKY PRO under IP CDMA Project aiming to provide wireless & fast internet service all over Nepal at a cheaper price. The EVDO service which supports both voice and data service is compatible with smartphones, tablet computers, laptops and desktop via various devices like USB EVDO modem, PCMCIA EVDO modem, EVDO mobile with the speed of 3 Mbps. NT is currently distributing RUIM card bundled USB dongle through its sale center throughout the country. For accessing the service from handsets, customers need to buy RUIM card supporting devices. Sky Pro service is expected to help to connect rural areas with faster internet.
In this, we will discuss on installation process for NT's USB dongle for connecting the internet on PCs.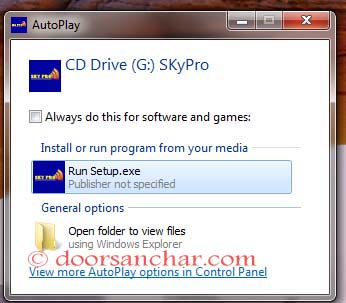 1. Insert RUIM card on the USB dongle and insert it into computer's USB port.
2. Then you will get a pop-up box like this.
3. Select Run Setup.exe option.
4. Now the installation process starts. A setup wizard box appears where you need to click Next option for next step.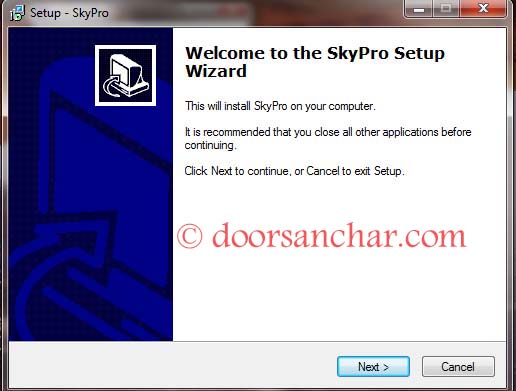 1. Then browse the location where you want to keep the installation files. The default location is C:\Program Files\SkyPro. If you want to change the location, click on Browse and select a favorite folder. Then click Next.
2. Again another dialogue box opens which lets you choose a folder for placing the program's shortcut icon. You better choose desktop for easy access in future and click Next.
3. Finally, the setup process begins after the confirmation for placing the installation files and program shortcut.
4. Sky Pro setup begins installing.
5. When the installation process has completed, a final dialog box opens to inform you that the Sky Pro has been installed. Check the Launch SkyPro check box and then click Finish.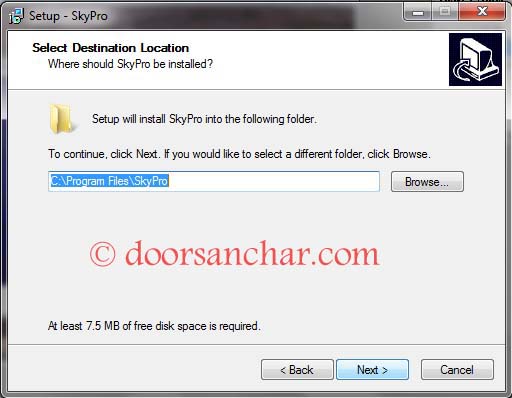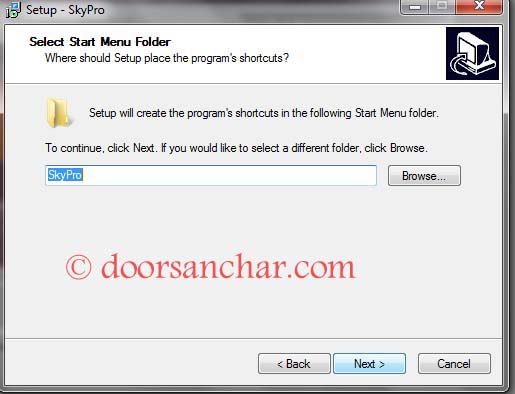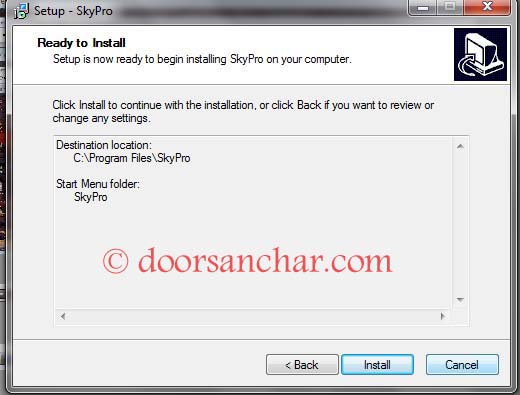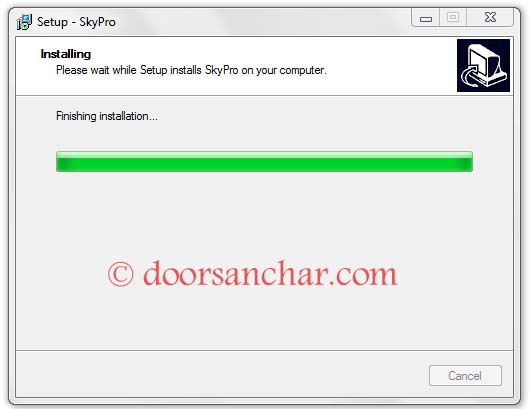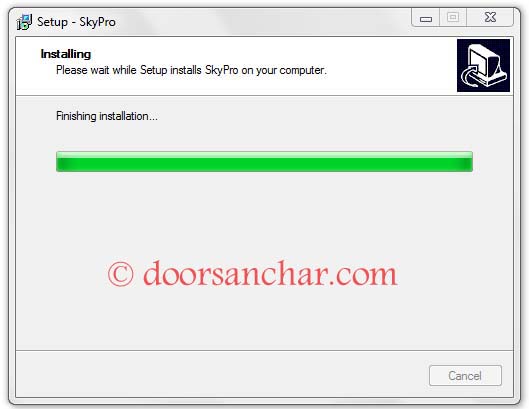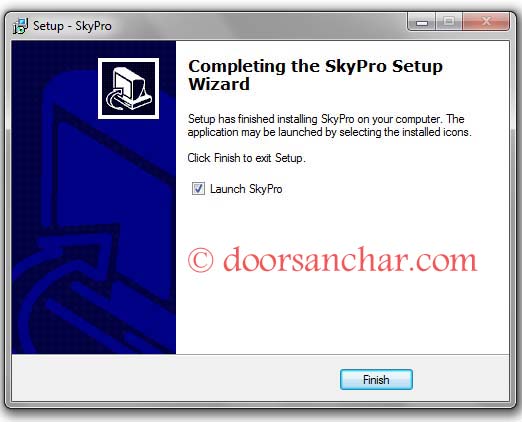 Up to now, you have completed only the USB dongle installation process which is not enough to surf the internet. Proper configuration is needed for that which is done on following steps: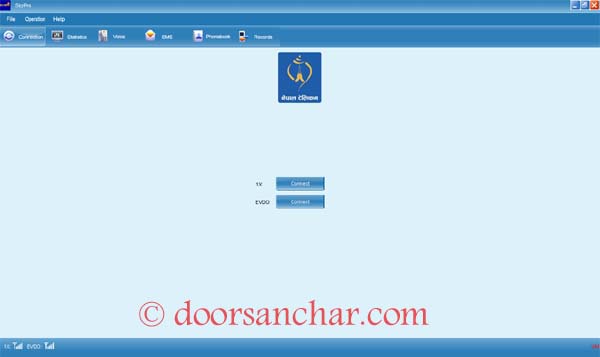 1. After clicking Finish on installation box, a new configuration box appears with various options including signal strength of 1X and EVDO at the bottom left. If you are in the place of a poor network of EVDO, the 1X will be helpful for surfing the internet with the speed of 256 kbps depending upon the nature of obstructions and interference in the surrounding area. The EVDO base station range extends from approx. 2 km in built up areas with lots of obstacles, to approx. 5 km in flat land. (Click) to get a full list of EVDO network coverage sites.
2. To begin configuring username and password, go to File menu on the top left and then Settings which opens Settings box with various input fields.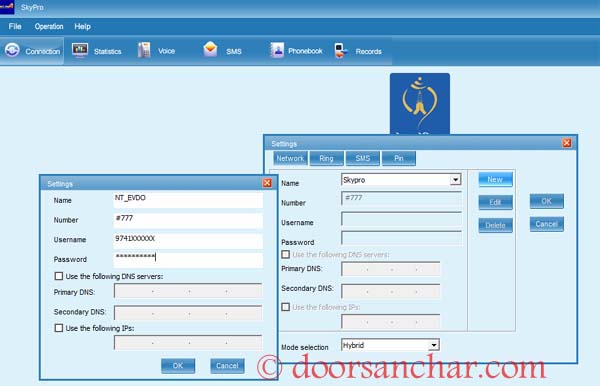 3. Go to New on the top right of the setting box which lets you enter configuration details for technical specification. Fill the boxes with following details and click OK Button:
Name:- NT_EVDO
Number:- #777
Username:- 9741xxxxxx [ Your Phone number as on RUIM Card ]
Password:- 9741xxxxxx [ Your Phone number as on RUIM Card ]
Let other fields as they are.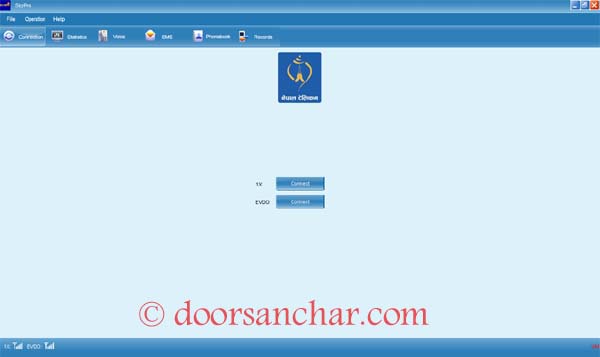 Click on Connect button ( 1X or EVDO based on the network strength )
After waiting for some time, you will get connected status at the bottom.
Now you can surf the internet with CDMA 3G. Currently, there are 15 BTS in Kathmandu, Banepa and Pokhara but the network has spread throughout the country.

Subscription and Usage Charges:
Subscription Charge : Rs. 200/- (Includes Ownership Charge & Talk Time and Data usage worth Rs 100/-) Usages : Rs 0.50 paisa per Mb exclusive of taxes.
Nepal Telecom has also introduced Data packages in Sky-Pro internet service which are as follows:
| | | | |
| --- | --- | --- | --- |
| SN | Data Volume | Tariff (Rs.) | Validity |
| | 500 MB | 200 | 1 Month |
| | 2 GB | 760 | 1 Month |
| | 5 GB | 1700 | 1 Month |
| | 10 GB | 2400 | 1 Month |
The data packages can be subscribed by sending SMS to 1456 from the corresponding number. Similarly, info about remaining data volume can also be obtained by sending SMS to 1456 with "bl".