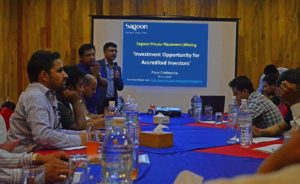 Sagoon, a Washington DC-based social media startup founded by Nepali immigrant to the US, has announced an investment opportunity for accredited investors to buy as little as $5,000.
Sagoon offers a one-of- a kind social commerce platform for users worldwide and plans to launch an equity crowd funding initiative with the help of BankRoll(a JOBS Act and equity crowdfunding platform) .The amount of capital raised will be used to expand the platform's user base, enhance product infrastructure and develop  Sagoon site which includes several applications for registered users, including "My Day" (daily task manager), "Mood Talk" (mood chatroom), and "Open Secrets" (secret sharing application).
"Our team has been working diligently to ensure Sagoon helps solve the negative aspects users typically experience on popular social media sites," Sagoon founder Govinda Giri said. "Thanks to the US JOBS Act, we're able to reach people who are passionate about our mission and offer those individuals the opportunity to participate in helping us change the world."
With Mood Talk, users can create custom emoticons and stickers for private or group chats. Sagoon deletes personal and group conversations after 24-hours. If users prefer to use Sagoon anonymously, they may create and share secrets with the rest of the Sagoon community. Later this year, Sagoon will introduce its Social Smart Card which compensates users for interacting with the site's features. Users receive a free Smart Card when they create a profile and join the Sagoon community. From there, registered users may buy and send gift cards to connected friends and family. Rather than having multiple gift cards, users may take advantage of one Smart Card, and take benefits from certified retail partners. All Sagoon Smart Card users will receive 5% back on all transactions.
"I am so excited to announce this great investment opportunity to all Nepali brothers and sisters around the world who are passionate about our mission to make Nepali Proud," said Kabin Sitoula, co-founder of Sagoon. He also stated "This opportunity comes once in a lifetime. If I had the opportunity to invest in Facebook and Twitter in their early stage, imagine how lucky would I be. But now, with US JOBS Act 2012, you all have the opportunity to invest in Sagoon in its early stage and co-own the company. We ask all Nepali accredited investors to buy a small piece of Sagoon and help us achieve our vision."
Kendall Almerico, CEO of BankRoll, one of the top crowdfunding and JOBS Act lawyers in the United States says, "At BankRoll, we are excited to help the Sagoon team use these revolutionary new laws to raise capital online, so they can expand and grow their business and realize their global social commerce vision."