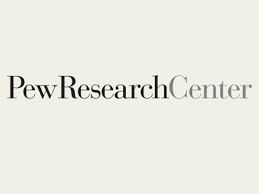 Survey conducted by Pew Research Center revealed that digital news intake is increasingly mobile. These findings come from a two-part study which asked U.S. adults a wide range of questions about their news habits and attitudes, and in due course of time about news they had gotten in the last two hours. The first survey was conducted Jan. 12-Feb. 8, 2016, among 4,654 U.S. adults ages 18 and older who are members of Pew Research Center's American Trends Panel. The second survey consisted of 14 short, online surveys that were administered two per day from Feb. 24-March 1, 2016.
The survey has found that compared with print, nearly twice as many adults (38%) often get news online, either from news websites/apps (28%), on social media (18%) or both. (81% of adults ever get news on these online platforms. As of early 2016, just two-in-ten U.S. adults often get news from print newspapers. This has fallen from 27% in 2013. Besides digital platform, TV remains the most preferred platform. TV remains dominant over print, Americans who prefer to watch news still choose TV, which is followed by online.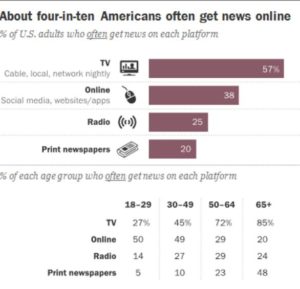 Surge in mobile usage, has given a rise in mobile news consumption. The portion of Americans who ever get news on a mobile device has gone up from 54% in 2013 to 72% today. Those who prefer watching news predominantly opt for TV and listeners turn to radio, most of those who prefer reading news now opt to get news online rather than in print (59%, compared with 26% of news readers who opt for print).

Social media has become a major source of news these days. But few only have trust on credibility of online news sources. Social media, on the other hand, is trusted only by minority of people – only 4% of web-using adults have a lot of trust in the information they find on social media. And that rises to only 7% among those who get news on these sites. Though usage of social media has increased for various purposes, engagement over it regarding news is low. About a quarter of social networking news consumers (26%) often click on links to news stories on social media. But only 16% often "like" news stories and fewer than that often comment on or discuss news stories, or share/repost news stories on social media.