It has just been a couple of years Oneplus smartphones ventured into the market. Known as the flagship killer, it is already creating its mark. It is striving to do something amazing and meaningful. Its latest flagship Oneplus 3 was recently launched and with the best specs, it is getting attention from all corners.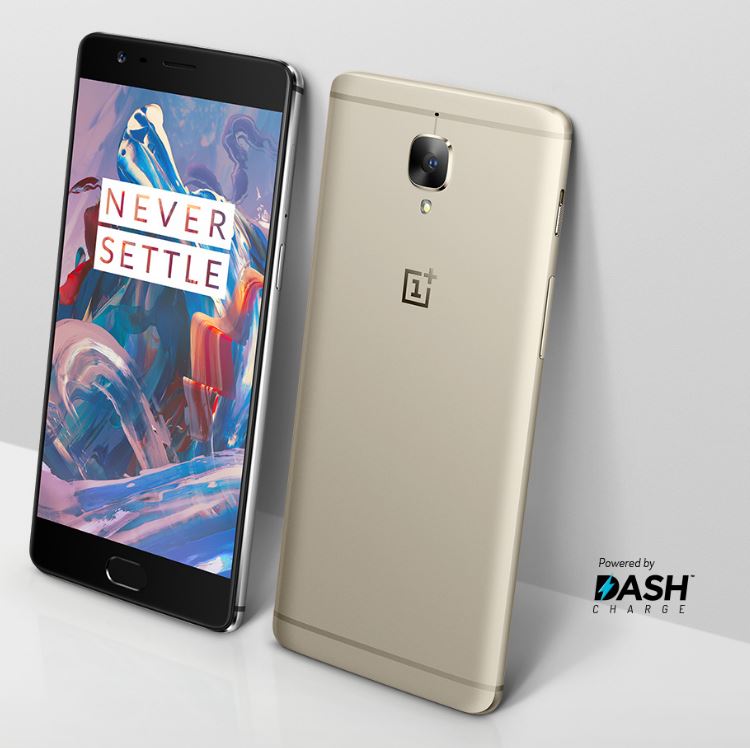 Dash charge: Fast Charging
We always hope that the phone gets charged faster and we can promptly get back to our work on a phone. One Plus 3 ensures it. Dash Charge has set a new benchmark for quick charging solutions. With dash charge, you will get a day power in just half an hour. With a 3,000 mAh battery, the OnePlus 3 will last through the day It reduces the heat generated during charging by charging in an adapter, rather than in the phone. Dash charge continues to operate at full force even during high-intensity activities like gaming, the phone doesn't slow down. Dash charge is faster than Samsung Galaxy S7.
Design: Remarkably solid and thin
We always overlook how our phone looks like and give much consideration to specs. The design is as important as camera megapixels, battery life, and storage capacity. One plus  looks gorgeous, is lightweight with notable strength. It is thinner than One plus 2(7.4 mm vs 9.9 mm) ranks among the thinnest flagships in the world. The metal unibody of the OnePlus 3 is carved out of a single slab of this robust metal for a seamless, resilient build.  It is available in Graphite color and Soft Gold color t hat brings out a natural metallic luster. It also has made protective case available made of sandstone material that matches your personality
More advanced camera with the benefits of DSLR
Exclusive Smart Capture technology makes taking the perfect photo easier and more worry-free than ever before. Electronic (EIS) and optical (OIS) stabilization technologies work in harmony to ensure that pictures and videos are crisp and smooth. EIS and OIS give you amazing pictures and videos sans blurriness, jolts, and shakes. In difficult lighting conditions, High-Dynamic Range (HDR) automatically produces well-balanced photos. The robust manual mode provides all of the benefits of a DSLR. You can personally adjust fine-tune exposure, ISO, focus, and more. 16-megapixel sensor is capable of processing 4K video if needed. What's more exciting is its Smite Capture, just smile for the camera, and the One Plus 3's 8 MP front-facing camera will automatically take the picture for you.
Faster Fingerprint scanner

Fingerprint sensor unlocks your OnePlus 3 in just 0.2 seconds, even from a sleeping screen. It's fast, accurate, and secure. The scanner doubles as a touch-sensitive home button. When the phone is under sleep mode i.e. you don't have to press any buttons prior unlocking the device. The home button actually covered with a ceramic coating. The ceramic coating can improve the overall accuracy of the fingerprint scanner.
Display and storage
The stunning 5.5" Optic AMOLED display produces colors that are more vivid and true-to-life than ever before. It is protected with 2.5D curved glass from the Corning Gorilla Glass 4. It offers a high-quality 1080p Optic AMOLED display which is an as a battery saving trait. It has internal storage of 64 GB and cannot be expanded any further. But 64GB of storage means you've got plenty of space for your favorite pictures, songs, and movies.
Software OxygenOS
It has created its own OS known as OxygenOS to maintain a balance between power and simplicity. OxygenOS has an array of robust power features. Based on Android 6.0.1 Marshmallow, your battery lasts even longer. With 'Now on Tap', you can find information relevant to whatever is on your screen with just the press of a button. Just swipe right from your home screen and you will get you a bunch of shortcuts, everything you need, automatically arranged just for you. Manually add widgets or change up Shelf's look for a more customized approach. Customization is still an important aspect of the OxygenOS game. You can customize your LED notifications, the status bar, the quick settings bar, and how you wake up the phone.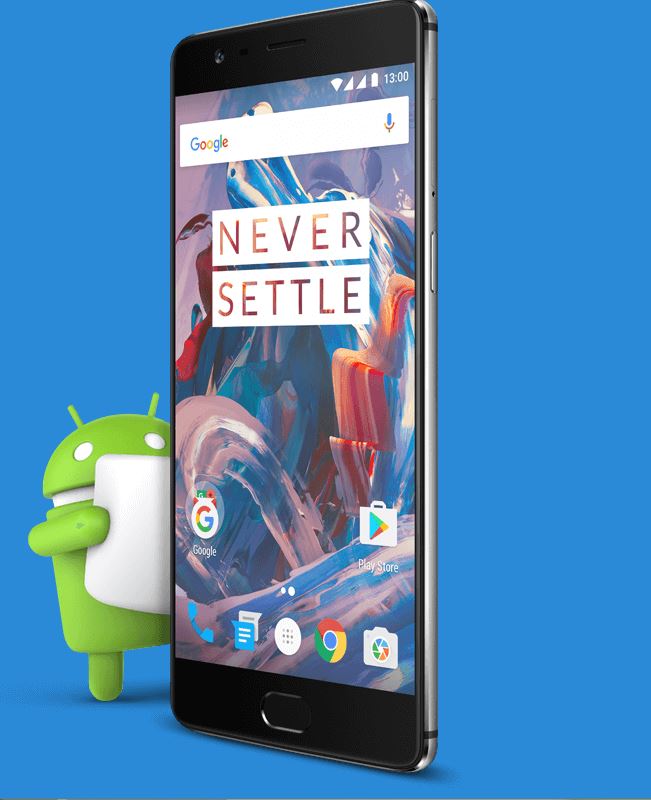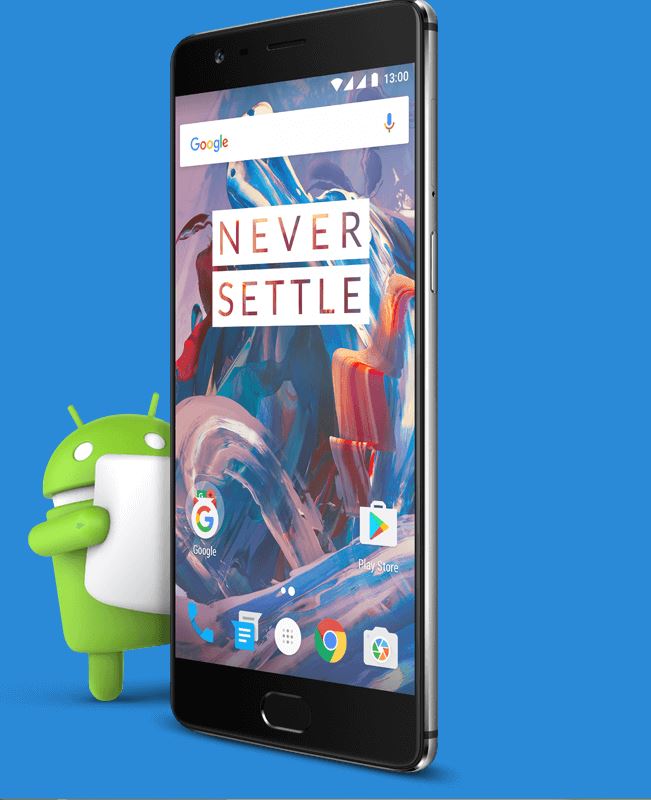 Some other basic amazing features
OnePlus still uses the new USB Type-C port while many manufacturers are stuck with the old Micro USB port. What else you find is a 3.5 mm audio jack for headphones, a microphone, and loudspeakers at the bottom.
The new Qualcomm® Snapdragon™ 820 processor, the OnePlus 3 performs 35% faster and features a 40% boost in graphical power over the OnePlus 2.
OnePlus 3 supports NFC connectivity. It is compatible with 4G network and you can connect to two networks at the same time.