Microsoft has unveiled brand new surface tablet as the improved version of Surface Pro 2 (June 2012) to expand its ever growing tablet market. The thinnest Intel Core product, Surface Pro 3 is faster and lighter with a larger screen size of 12 inches & is just 9.1 mm thick equipped with i3 to the i7 processor and 8 GB RAM.
The "Absolutely Beautiful" tablet weighed just 900 grams allows a user to convert pen-written text to digital instantly in Full HD display. Microsoft, which is viewing MacBook Pro as its latest competitor has come up with high-performance device with 9 hours of battery backup. The extremely brilliant tablet with improved kickstand runs Windows 8 Operating System (OS) via which windows apps can be enjoyed. Attaching a keyboard and mouse can transform it to a traditional laptop which the company claims to replace laptop world.
The Surface Pro 3 is priced from $799 with an i3 processor and is taking pre-order from Wednesday but will be available outside the US by the end of August.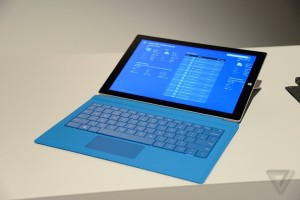 Key Features:
-4th Generation i3 to i7 Processor
-RAM ranging from 4 to 8 GB
-12″ HD screen, 2160*1440 resolution
-9.1 mm thick
-Weight: 800 grams
-Kick Stand and Type Cover
-Lean Back a full 150 degrees
-9 hours of Web-Browsing Battery Backup