To prevent accidentally sharing of facebook post of new users publicly, facebook has changed the privacy feature for the newbies. The default audience of their first post from now on will be set to Friends only which previously was set to Public. The move is expected to reduce a chance of sharing a post to the wider audience and thus control privacy too.
Along with the default privacy, the first time posters will also get a reminder to select the default post visibility for future. If the options are left unchanged the future posts will be available only for friend list.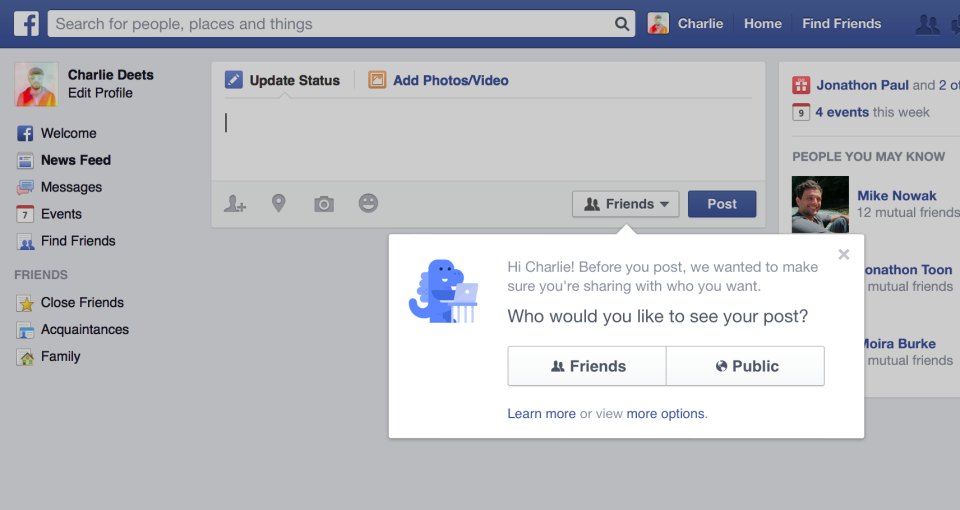 Facebook has expected the move would help people make sure they are sharing with just the audience they want and maintain privacy. But the change will leave no impact on existing users. For existing user, the default post visibility will be the one which was selected last time. The privacy setting can be altered easily at few clicks for which privacy shortcut option at the top right of the blue bar could be a fast way.
Facing wide criticism over privacy concern, for past few months, the social network has introduced several features including Public posting a reminder, Simplified Audience Selectors & Anonymous Controls.
A few months ago, facebook had removed the restriction of the post visibility within friends and friends of friends circle for teenagers under the age of 18 to post publicly.
image source: newsroom.fb.com