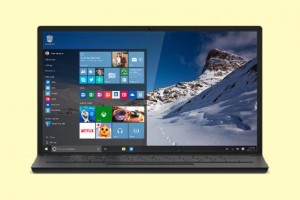 Finally the wait is over; Microsoft has released its much awaited version of windows operating system named windows 10.  Windows 10 is here and it has been drawing positive reviews. But if you are running an eligible version of Windows and are following the Microsoft's recommended process for the upgrade you might have to wait till Microsoft pushes Windows 10 your way. Also check if your PC meets the Windows 10 system requirements.
For those who are low on patience and desire a taste of Windows 10 right away, here's the short-cut. Microsoft is also letting users directly download Windows 10. You need to go to this page and choose the version compatible with your PC (32-bit or 64-bit). This process would however need a blank DVD or an USB drive with at least 4 GB of free space.
Be sure to take a backup of your data before making the upgrade. Just in case something goes wrong. Also if Windows 10 isn't the Windows you have been waiting for, there is an option to rollback. Some users have however reported a 'Something happened' error while attempting a Windows 10 upgrade via the Microsoft download page.