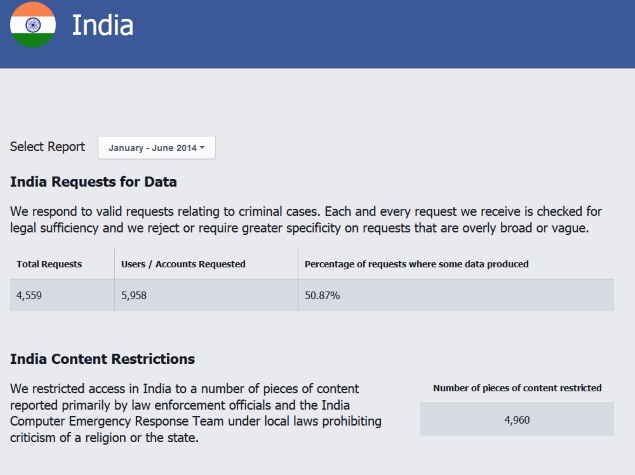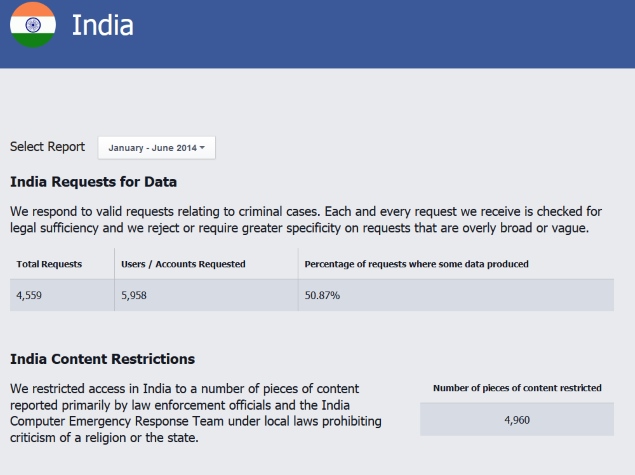 Facebook has stated that India has requested to block content and access to user account more than any country in the first six month of 2014. Facebook has restricted access to nearly 5,000 (specifically 4,960) pieces of information  in India in the first six months of 2014 which are mostly requested by government as well as other agencies.
India 100 million Facebook users second highest in the world. US leads position of facebook users whereas china has blocked, citing security reasons.
"We restricted access in India to a number of pieces of content reported primarily by law enforcement officials and the India Computer Emergency Response Team under local laws prohibiting criticism of a religion or the state," Facebook report stated. The reports also added that India is also in second position in after US for requesting the access to the users account.
Upon the demand of the government during the first six months Facebook said that only 50.8 percent request saw some kind of data being produced. Compared to last year of same period the request has gone up by 40 percent
"Since our first report, we've seen an increase in government requests for data and for content restrictions. In the first six months of 2014, governments around the world made 34,946 requests for data – an increase of about 24 percent since the last half of 2013," Facebook Deputy General Counsel, Chris Son derby, said in a blog post.
Facebook in its Government Requests Report said that Turkey requested 1893 pieces of information whereas Pakistan 1773 who belongs to second and third respectively.