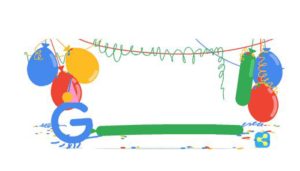 It has been eighteen years since the search engine giant Google was founded. It is celebrating its 18th birthday today with a doodle on its homepage. The American search engine giant was founded in 1998 by Sergey Brin and Larry Page.
Every year when Google celebrates its birthday the confusion looms over its actual birthdate. Because it was founded on September 4 in 1998. Like today, most of the years, it has celebrated its birthday on 27 September. But in 2005, it celebrated its birthday on 26 September, in 2003 on 8 September and in 2004 on 7 September.
Over the past 18 years, it has developed itself as more than a search engine. It now delivers software for mobile, internet services, map, translate and much more. In 2004, it launched Gmail on April Fools' Day. In December 2003, it announced Print known as Google Books. It launched its web browser Chrome in 2008. Since the inception to date, it has given us so many things. And we are very grateful for that.
Happy Birthday, Google!