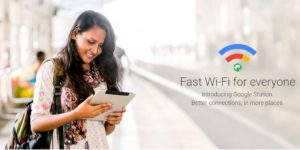 Google has announced the launch of Google station in India that gives the platform to roll-out Wi-Fi hotspots in public places.
According to its official blog post, Google Station will provide software and guidance on hardware to turn fibre connections into fast, reliable and safe Wi-Fi zones. This service will enable users to experience fast Wi-Fi experience with a simple login, bringing wi-fi to more locations. Indians can have safer and faster wi-fi experience in shopping malls, universities, bus stops, city centres, cafes or their workplace.
Google is looking for partners to make it happen. Currently, it has been working with Indian railways and RailTel to provide Wi-Fi at 400 railway stations in India. At present, more than 50 stations provide high-quality Internet to 3.5 million people in a month. According to its estimate, 15,000 Indians come online every day through these stations. And Google plans to boost this number further.