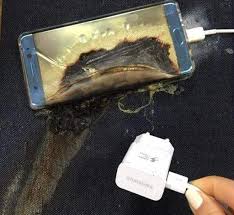 The third replacement of Samsung Galaxy Note 7,  since the first Note 7 explosion has caught fire for the third time in Kentucky. The phone was owned by Michael Klering. He was sent to the hospital after suffering from smoke inhalation injuries. This is reported to be third Note 7 explosion  in less than a week. Few days ago Southwest Airlines flight from Louisville to Baltimore was evacuated because of a burning of Note 7. The other Note 7 fire injured 13-year old girl.
The recent report suggests that Samsung has suspended the production of Note 7 following the latest Kentucky explosion. Last month it recalled 2.5 million of the original Note 7. It is believed battery manufacturing error is attributed to Note 7 battery explosion. The first incident of exploding batteries had made Federal Aviation Administration to ban use of Samsung Note 7 on planes.
The chemical properties that makes battery work sometimes make them explode. Samsung is not the first phone to have caught fire. Back in 2004, Nokia had also recalled its 46 million phones.