The new MacBook Pro is impressive in every way. The Touch Bar and the lighter design is being extremely popular of the Macbook. Despite having features like the new USB Type C ports that has replaced USB  ports, faster speed, Touch ID the price of the new Macbook is too high. If you also think the price is not worth it there are a wide range of alternatives available in the market with similar features.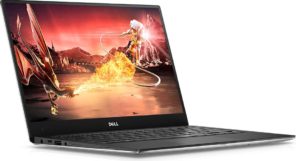 Dell XPS 13
It is the smallest 13-inch laptop in the market with best Windows features. It has world's first state-of-the-art InfinityEdge display. Equipped with 6th Gen Intel Core processor that boots and resumes in seconds. It is particularly built for business people with features like leading-edge encryption, authentication and threat protection. It has the longest battery life of any 13-inch product.
RAM: 4GB-16GB
Storage: 128GB-1Tb
Microsoft Surface Book
Microsoft first laptop could be the best alternative to Apple's costly Macbook. It is actually built with maximum performance. It gives you increased speed and graphics performance with its Intel Core i7 processor. You can choose among a range of performance speed with a wide range of processor it comes with.  It works  perfectly with latest versions of Microsoft Office and Windows. The Surface book also works with iTunes, iCloud and iPhone. It delivers up to 16 hours of battery life.
RAM: 8GB- 16GB
Storage: 128GB-256GB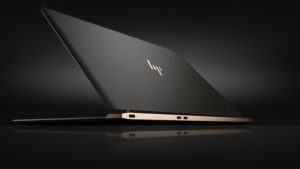 HP Spectre
It is known to be thinnest laptop ever of HP. It weighs just 2.45 pounds. It is scratch resistant with edge-to-edge corning gorilla glass display finish. To adjust the workload and keep your laptop cool even during the peak hours of work it draws cool air in with its hyperbaric cooling technology. It lets the heat out at the same time draws the air in. It is the first HP laptop to have a hybrid battery. It delivers maximum battery life distributing battery cells throughout the device. It comes with a trio of USB-C ports, like the new MacBook.
RAM: 8GB-16GB
Storage: 128GB-256GB
Asus ZenBook UX31OUA
In regard to the cost, Asus ZenBook UX31OUA is the best alternative to Macbook Pro. Weighing just 1.2 kg you can take it wherever you go. It is incredibly beautiful and powerful. The Intel Core M processor handles all your everyday tasks very well. It doesn't need a fan to cool at all, the ultraothin heatpide made of chromium copper alloy lets the heat out.
RAM: 8GB
Storage: 128 GB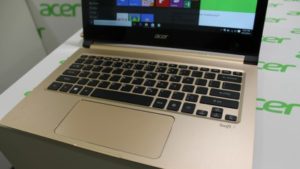 Acer Swift 7
It is also the thinnest laptop measuring less than 1cm. It is the slimmest laptop weighing at 1.1 kg. It delivers up to nine hours of battery life. It comes with a pair of USB 3.1 Type-C connectors which can be used for charging or connecting to an external monitor. With it, you can enjoy 3X faster wireless performance.
RAM: 8GB
Storage: 256 GB