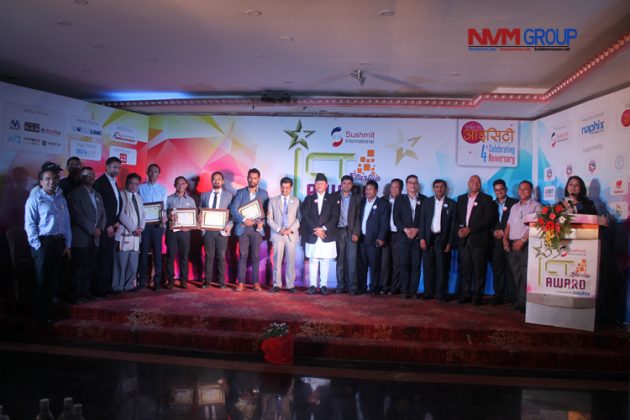 The first edition of 'IT Startup Award 2016' organized by Living with ICT Magazine for the first time in Nepal felicitated four new innovative IT companies. The top four best companies honored in the program are Sasto Deal Pvt.ltd, Kul Techno Lab, Yellow Nepal Pvt Ltd and Smart Samaj Pvt.Ltd.
More than fifty companies had sent application for the award and top ten companies were in the final round of the competition. The top ten companies are Eminence Ways Pvt.Ltd., Gurkha Tech Pvt. Ltd., I Tech Nepal Dot Com Pvt. Ltd., Kul Techno Lab and Research Center Pvt. Ltd., Mantra Ideas Pvt. Ltd., Phunka Technologies, SASTO DEAL Pvt. Ltd.,Smart Samaj Pvt. Ltd., White Space Pvt. Ltd. and Yellow Nepal Pvt. Ltd.
'We believe that the First edition of the Living with ICT Awards for excellence in the field of Information Communication Technology will serve as a Milestone for the tech sector and help in showcasing new and advanced ideas from our tech startups while also giving them a sense of recognition and appreciation for their works' reads website of Living with ICT.
Computer Scientist Muni Bahadur Shakya was also honored by special award in the event. Sushmit International was the major sponsor of the event; it is a software and app company working in Australia and Nepal. Likewise, Naphix Technology was in association of the grand event.