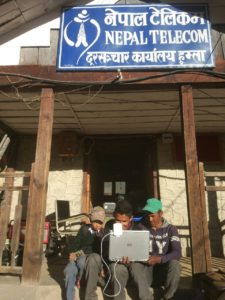 As promised while unveiling plans and programs of fiscal year 2016/17, Nepal Telecom has been extensively expanding its service all over the country. In early October, NT had expanded 3G service across the country. Of late, it has extended WiMAX (Worldwide Interoperability for Microwave Access) service in 75 districts of the country.
On 24th October, NT made the service available in Humla , the last district to be connected in the network of broadband internet service.  Earlier, this service was available in 74 districts of the country. Nepal Telecom had launched WiMAX service in March 2013. Initially, the service was available in 49 districts.
Issuing the press statement, it has stated that WiMAX service is the most advanced 4G internet service. To use this internet service, customers should purchase CPE (Customer Premises Equipment). The validity of WiMAX internet service with ranges from one month to a year.
Currently available WiMAX internet packages are mentioned below:
| | | |
| --- | --- | --- |
| Validity  | Volume | Rate |
| One Month | 4GB | Rs 650 |
| 3 Months | 15GB | Rs 1500 |
| 6 Months | 30 GB | Rs 3300 |
| 12 Months | 60GB | Rs 5,300 |
| 12 Months | 120GB | Rs 8,000 |
| 12 Months | 202GB | Rs 12,750 |
| 12 Months | 336GB | Rs 20,400 |