If you travel through Sajha Bus daily, then good news is here. Also, if you use other vehicle for the same way, then you will definitely choose Sajha Bus for one more reason than comfortable and high standard drive. Now Sajha Bus commuters can enjoy internet inside the bus during the journey.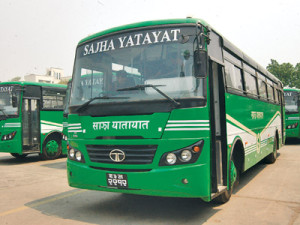 All the 16 buses of Sajha Yatayat are now well equipped with Wi-Fi hotspot based on Worldwide Interoperability for Microwave Access (WiMAX). For browsing internet from mobile or any Wi-Fi compatible device, Nepal Telecom (NT) GSM and CDMA users need to send SMS to 1416 with text- "Wi-Fi". Then the user will receive password and can surf internet using the password and username same as their mobile number. The password is valid for 24 hours and the charge is same as that for general NT Wi-Fi users i.e. Rs 10.
The service is sure to be helpful to overcome boredom of passengers by browsing the internet. Currently, Sajha Bus is being operated in two different routes in Kathmandu. One from Kalanki to Tribhuvan International Airport and another from Lagankhel to Gongabu. 
After the introduction of WiMAX technology many long route buses have been providing Wi-Fi service for free to their customers.