As the festive season is very near, the market has already caught a festive fever. People are gearing up to celebrate it to the fullest. And the latest addition to celebrating about is festive scheme launched by Nepal Telecom and Ncell. Both the telecom companies have announced their festive schemes today.
In view of the approaching festive season, Nepal Telecom has announced discounts on data packs, voice call, SMS, PSTN calls, and extension of validity on ADSL//WiMAX/FTTH services. The discounts on voice calls, SMS will be provided to both prepaid and post-paid customers of GSM and CDMA.
Data offer
Nepal Telecom is providing 100 MB data at Rs 50, 250 MB data at Rs 100 with the validity of five days and ten days respectively. Along with this volume of data pack, users can also use 10-minute free voice calls, 10 free SMS and 25 minutes free voice call and 25 free SMS respectively. The offer will be effective from Ashoj 15 to 29 and Kartik 12 to 29.
Night Data offer
NT has provided night data offer to both GSM and CDMA customers. According to NT, 500 MB data pack can be used for Rs 40 and 1200 MB data pack for Rs 85 in between 10 pm to 6 am. 500 MB data pack has a validity of 7 days while 1200 MB is valid for 15 days. Night data offer will be available for the next three months starting from Ashoj 15.
Discount on Voice call
NT has announced 10 percent waiver on voice calls within the same network for both GSM and CDMA users. It costs Rs 1.35 per minute for prepaid users and 90 paisa for a post-paid user. This voice call offer will be valid from Ashoj 22 till Ashoj 29 and Kartik 14 till Kartik 21.
SMS offer
NT has reduced SMS tariff to 50 paisa per SMS from existing one rupee for this festive season.  This offer will be valid from Ashoj 22 till Ashoj 29 and Kartik 14 to Kartik 21.
PSTN/CDMA C-Phone offer
During the month of Ashoj and Kartik, 100 additional free calls will be provided at Rs 200 in PSTN/CDMA C-Phone service.
ADSL/WiMAX/FTTH offer
During Dashain, Tihar and Chatth the validity of volume based and Unlimited ADSL will be extended. On part of WiMAX and FTTH services, validity will be added if the data volume has not been consumed but the validity has been over. The validity of ADSL/ WiMAX/FTTH services will be extended if it gets finished within Ashoj 22 to Ashoj 28 and Kartik 14 to Kartik 20.
Bonus on MPos recharge
NT has announced to provide 10 % talk time bonus on topping mobile with Rs 100 or above it from MPoS (Pinless System).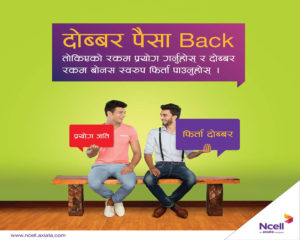 Ncell, the other major telecom company has introduced 'Dobbar Paisa Back' offer as its festive offer. Under this scheme, customers who spend a certain amount of their main balance can get bonus double of the spent amount. This scheme can be activated for free by dialling 17124.
After activating this scheme, customers will be informed about their daily spending target. If the customers meet the daily spending target, he can get double of the money spent as a bonus. The spending target should be met before 12 am midnight and the bonus provided should also be used within Ncell network to call, send SMS/MMS or surf the internet on same day till midnight.
This offer will be valid from 29th September 2016 to 28th December 2016 unless it is deactivated earlier. This offer is available for only Ncell prepaid customers.
Spend as much as you can and get double fun.