State owned telecom operator Nepal Telecom (NT) has come up with discount schemes on the occassion of biggest festivals of Hindus – Dashain, Tihar and Chhath. The festive schemes was delayed this year because of protest of engineers objecting appointment of a non-engineer Buddhi Prasad Acharya as NT Managing Director. Meanwhile NCELL has already announced festive offer.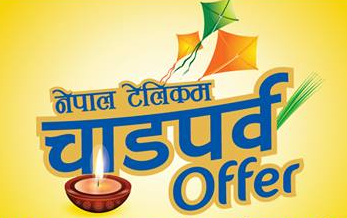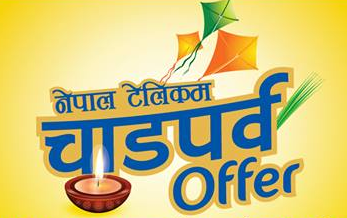 The scheme valid from 2071/06/13 to 2071/06/21 and 2071/07/04 to 2071/07/13 includes attractive discounts on voice calls, SMS and data for subscribers of almost all services.
For GSM/CDMA:
1. Discount on voice call: Within the above dates, both postpaid and prepaid customers will get 10% discount on each call made. The new rate will be 90 paisa for postpaid and Rs. 1.35 for prepaid numbers.
2. Discount on SMS: All SMS sent within the NT network will charge 50% less than the usual i.e. it costs 50 paisa per 140 characters message.
3. Discount on Data: The new rate within the festival for above dates are deduced to 50 paisa per MB for both GPRS and 3G services. Meanwhile, while surfing internet from CDMA (1X/EVDO), it costs 10 paisa less than the prior.
For PSTN/C-Phone (Post Paid Fixed):
Customers of landline service can enjoy 100 additional calls each on Aswin and Kartik. The free call count was 175 with charge of Rs. 200 per month.
Validity extension of ADSL and WiMAX:
Those whose monthly payment date falls within 2071/06/14 to 2071/06/21 can enjoy internet till 22nd of Aswin. Also those from Kartik 06 to 12 would also get the extension date.
Also, volume based subscribers can enjoy 3 GB of additional data whose package will end within 06/13 to 06/20 and the bonus data volume would have validity till 06/21.
Bonus on CDMA Recharge:
Customers of NT CDMA service will get 10 to 20 percent bonus on balance recharge from 06/9 to 06/21 and 07/04 to 07/13.
NCELL has already started to provide dashain offer whose detail can be read here.