Industry Department has confirmed that news regarding Ncell's Managing Director Simon Perkins's illegal visa status to be false. Department has asserted that MD is working legally on a business visa. It has recently made public information letter regarding work permit in response to complaints registered at Hello Sarkar against MD to be working illegally.
Earlier it was reported that, Managing Director Perkins to have been working illegally on business visa instead of working visa. Simon Perkins was appointed as MD of Ncell by the board of Axiata effective from April 12. Ncell had written on 30th of Chaitra to Industry Department to issue business visa notifying the latter on Simon Perkins appointment as MD. Responding to the application sent by Ncell, Department issued business visa on May 21, 2016, in accordance with section 2, Article 6 of Foreign Investment and Technology Transfer Act of 2049.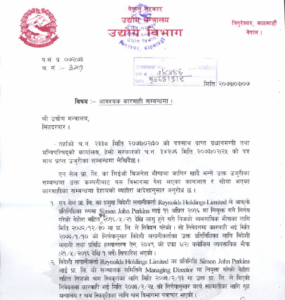 The official decision of the board of Axiata to appoint Perkins as MD,  was notified to the Industry Department and the procedure to provide the work permit to MD was forwarded as per the decision made on 13th Jestha, 2073. Accordingly, the Industry Department has written to Labour department for the work permit.
Perkins, a British citizen, has been with Axiata Group since 2008. He has been in the telecommunications Industry for over 40 years. Initially, he worked as the CEO of Hello Axiata in Cambodia, where he successfully wrapped up the Group's merger with Smart in 2013.  Prior to joining Axiata, Simon has worked in senior roles in Millicom International Cellular, Hutchison International, and British Telecom. Simon holds a degree in Electronic and Electrical Engineering from Loughborough University, UK, and an MBA from the University of Warwick, UK.