Do you find videos playing automatically irritating? Are those videos consuming your data and battery? If yes, follow these steps:
Facebook
To stop videos from playing automatically on your computer:
From the top right of Facebook, click  and select Settings
Click Videos in the left menu
Click the drop-down menu next to Autoplay Videos and select Off
On iOS,
Open the Facebook app, choose Settings, Tap Videos > Autoplay. Choose an option.
On Android, choose App Settings > Video Auto-Play and pick your desired setting.
Twitter
On iOS, go to Settings > Video Autoplay and you can select between mobile data and Wi-Fi, Use Wi-Fi only and Never play videos automatically.
On Desktop,
Choose Settings from a drop-down menu.
Click Account in the left-hand column.
Scroll down to the Video tweets section and click on the box for Video autoplay.
Click Save changes.
Instagram
Open Instagram, and then go to your profile page
Tap on the settings screen.
Scroll down to the 'Cellular Data Use' section.
Choose 'Use Less Data' to stop Instagram videos from pre-loading when you're on your data connection, But the videos and the photos will still pre-load over a Wi-Fi connection.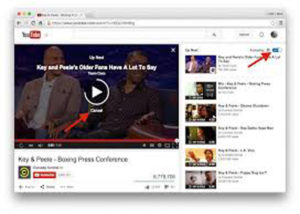 Youtube
To disable autoplay videos on Youtube, look at the top right of your screen near Up Next. You'll see a slider, Slide it to turn it off.