If you are in fear of getting lost in unfamiliar territory without internet connection, you need not to get tensed. Google has introduced new feature on the latest update Android 8.0 featuring to access Google Map even on offline mode which was represented by less effective of caching offline maps on previous versions. With offline maps, you can easily view a map even without internet connection but for this you need to create offline map. In this post you are going to learn how to utilize this new feature.
1. Open Google Map app and tap the profile button in the upper right corner.
2. Scroll down to the bottom where you will see option for offline map named "Offline maps" built solely to access Google Map for offline.
3. Then search for the area which you wish to save for offline use at later date and hit Save at the bottom of the app.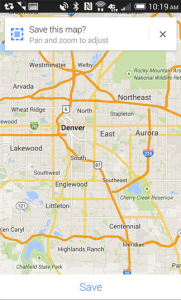 The saved map is stored on Google Maps profile. To view the saved map on future, just go to profile and scroll down to get the offline map. You will get all without internet access at the time. The saved map will be available for 30 days on the device after which user need to update it by re-downloading.