President Bidya Devi Bhandari has launched digital signature for the first time in the country in the midst of a function organized here in the Capital on Wednesday. "Digital signature is a special government certified identification code which is used to authenticate digital information such as documents, e-mail messages by the sender or the signatory and ensures that the document is unchanged and genuine", reports Kathmandu Post.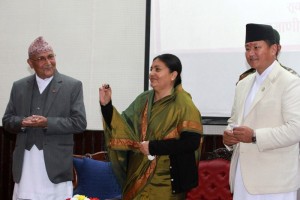 It further states that the Office of the Controller of Certification (OCC) had initiated the works related to this under the Electronic Transactions Act-2063 BS and Regulations-2064 BS with an objective of making electronic transactions safe and reliable.
Similarly while launching the digital signature, President Bhandari said that it was the need of the hour to take the public services to the access of the general public by making it safe, credible, authentic and smooth after maximum use of information technology.
President Bhandari conveyed the view that the digital signature would be a milestone in the initiative of the government of maintaining electronic good governance by ending wrongdoings while receiving and providing services including fake signature as well as documents.
She further said that the use of digital signature would not only modernize business, it would further strengthen relations between government and service recipients as it would help to make the service delivery easy and smooth as well as reliable.
According to the Kathmandu Post the OCC has given permission to Radiant Info-tech Nepal Company to issue digital signatures. The first token with digital signature was presented to President Bhandari soon after the launching of it. Similarly, PM Oli and Minister Rai were also presented with such tokens.