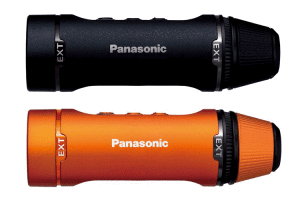 Electronic company Panasonic has announced its all-new compact, lightweight and full HD wearable camera HX-A1 in India at Rs 19,990, IBNLIVE reports.
Reportedly, the Panasonic HX-A1 wearable camera weighs 45 grams, is waterproof and shockproof to 1.5m. It is further usable in dusty or freezing environments down to -10 degree Celsius. Shaped like a mini torch, the camera features an f/2.8 Panasonic lens and 1/3″ MOS Sensor. It comes with a 0 Lux Night Mode that allows one to capture comfortably even in night environment.It includes an IR filter that could be used with an infrared light source to click in the dark.
According to the report, it comes with a feature called loop recording mode that retains the most recent hour of scenes by erasing the earlier scenes so that you could continue to shoot for longer than an hour. With a fixed focus, the camera supports microSD (1GB/2GB), micro SDHC(4GB/8GB/16GB/32GB), microSDXC(48GB/64GB/128GB).