Facebook has taken over our daily life. Every time you use your phone, you do check in your Facebook account to make sure you didn't miss anything important. Though we log into Facebook frequently, like once in every half an hour, our use must have been confined only to liking, commenting on FB posts. There are so many amazing Facebook features we have not discovered yet. There is so much yet be explored by you of this popular social network. Take a look what you have missed so far about Facebook:
Pin Post on top of your profile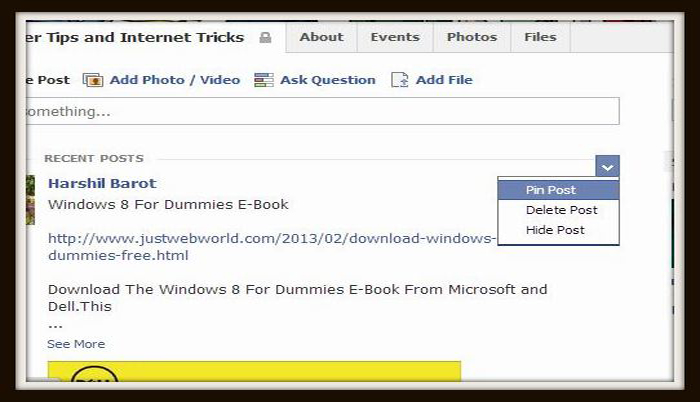 Do you have anything interesting which you want to be noticed at first people see your timeline? If yes you can highlight such post pinning them to the top of your profile. Go to the top right corner of the post you want to pin and select pin to top. It will be the first post people will see right away on your timeline.
Want to know who is prying into Your Account?
There might be someone out using your Facebook account secretly. You can see the details of such unauthorized logins. Click on your settings page. Tap on the Security then you'll see the link "Where You're Logged In." It will show you the details of suspicious login to your FB account. You can get information on device type, location and browser through which you FB account has been accessed.
Get history of your Facebook data
You can go past to your Facebooking days and relive those old memories. You can see everything you have done on Facebook since you first joined in. Every single activity you will get lively once more. If you have forgotten what was your first Facebook experience like it will help you a lot. Recall those days downloading a copy of your Facebook data.
Choose what to do to Your Account After you die
If must have been wondering what would happen to my facebook account after I die. Facebook has a cool solution for that as well. You can choose what to do with your facebook account after you pass away. You can either choose someone to manage your account after your death or request account deletion. Go to the settings> click on the security folder and tap on legacy contact.
Send Money through Facebook
Gone are the days when you had to rely on IME, the Western Union to transfer money. You have so many alternatives available that you can do it via your mobile with a single click. Social networking giant, Facebook also has an amazing feature to let you transfer money from your computer or mobile device ( if both the sender and recipient have a valid debit card). To set it up, go to Settings > Payments>Account Settings >Add payment method and enter the debit card number.