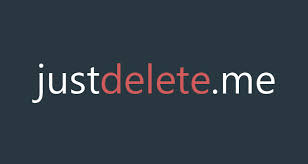 Want to disappear online removing your personal information collected over the web? Then its no more a nightmare. JustDelete.me has made it easy to delete accounts of huge number of sites ranking the removing process from easy to impossible. You can delete selected website accounts clicking on the given links and following few steps. But there are some sites like Blogger, Bitly, Evernote, Godaddy, Gravatar in which erasing everything is impossible & in other hand 9gag, about.me, twitter comes in easy category. Sites like facebook, linkedin resides on medium level to delete account.
How to delete accounts?
Just go to justdelete.me and select corresponding site where you want to delete your account. This will directly take you to the site's page from where you can remove yourself in few steps.
For example, if you want to delete your facebook account, click on facebook link at the justdelete.me homepage which will directly take you to the  Delete Account page.
If you click on Delete my Account option, you will not be able to reactivate your account or retrieve any of the content or information on facebook. Similar is the steps for other sites too.